Baltic States Tour & St. Petersburg
Discover the Baltic States and St. Petersburg!
Program
Baltic States Tour & St. Petersburg
Duration
10 days / 9 nights
ITINERARY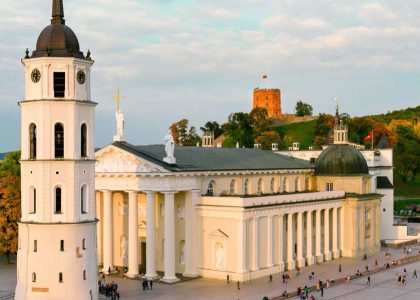 Arrival to Vilnius, Lithuania
Arrival to Vilnius – the capital of Lithuania.
Meeting by Baltic Motion local representative at the airport and private transfer to hotel
Free time to discover the city on your own
Welcome dinner in the Old Town of Vilnius
Overnight in Vilnius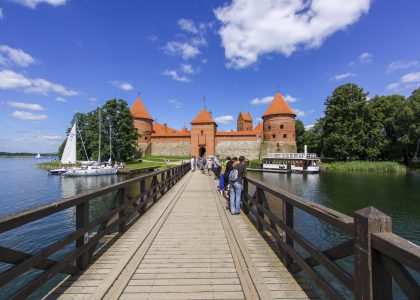 Vilnius - Trakai - Vilnius
Start the day with a tour of Vilnius' Old town. You will discover the largest Old Town in Eastern Europe as the guide introduces you to the main city highlights including the visit to Vilnius University. Our bus will drive you around to see the best panoramic views!
After city tour departure to Trakai –  a cozy and beautiful town just 25 km from Vilnius, the former capital of Lithuania. Trakai highlight is famous insular Castle on the lake Galvė dating back to XV century. It is a historical Museum of Trakai nowadays.
Lunch at typical restaurant "Kybynlar" with the view to the lake
After lunch visit to Trakai castle.
Late afternoon return back to Vilnius
Highlights
Vilnius city tour
Visit to Trakai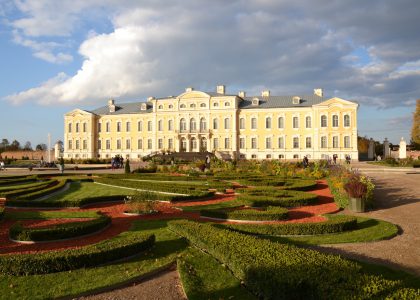 Vilnius - Hill of Crosses - Rundale - Riga
Departure to Riga, the capital of Latvia.
Stop at the famous Hill of Crosses near Siauliai (30 km from the Rundale Palace). The Hill of Crosses, a unique historic place in the world with more than 100 000 crosses.
Lunch at a local tavern on the way to Latvia
Stop in the Rundale Palace (30 km from Riga), this Palace is the most outstanding monument of Baroque and Rococo art in Latvia. The palace is an example of the early work of Italian-Russian architect Rastrelli who also designed the famous Winter Palace in St. Petersburg. You will be impressed by the authentic beauty the Golden Hall, the White Hall, private quarters of the Duke of Courland Johan Ernst Biron.
Late afternoon arrival to Riga.
Check-in and overnight in Riga.
Highlights
Visit to the Hill of Crosses
Visit to Rundale Palace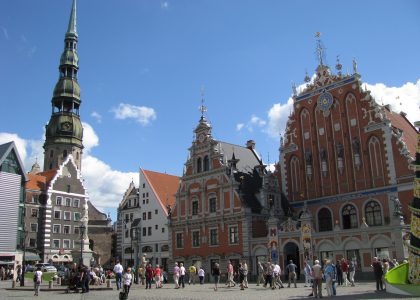 Riga - Jurmala - Riga
After breakfast, we invite you to explore the Old Town, the most enchanting part of Riga and a UNESCO World Heritage Site. Enjoy the beauty of this ancient Hanseatic city, while strolling through the cobble-stone and picturesque streets of the historic centre of Riga and discover some of Riga's greatest examples of Art Nouveau.
Lunch at a restaurant in the city center.
Afternoon exploring of Jurmala (25 km from Riga) – the largest seaside and spa resort in the Baltic States. The town is known for its unique natural resources such as its curative mineral waters, medicinal mud, pine forests, and sand dunes. The town's architecture is represented by many styles including unique wooden architecture (late19th-early 20th cent.), classicism, Art Nouveau and national romanticism.
Overnight in Riga.
Highlights
Riga city tour
Tour to Jurmala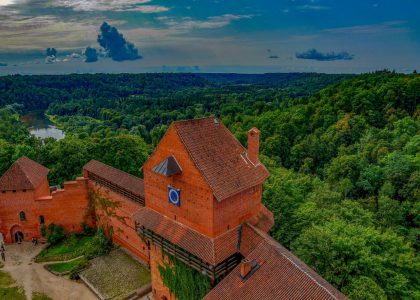 Riga - Gauja National Park - Tallinn
Departure to Tallinn with stop at the Gauja National Park, Sigulda city (60 km from Riga) often referred to as the Latvian Switzerland. Gauja National park includes the valley of the Gauja River and together with its tributaries it forms a particularly original landscape. The territory comprises more than 500 monuments of archeology, architecture, history starting with 11th century.
Enjoy beautiful vistas of the Gauja River Valley, visit the 13th century Turaida Castle, now housing a small History Museum, and relax walking in the adjoining Sculpture Park, featuring works of Latvian sculptors. Later stop by a natural sight – Gutman Cave.
Lunch at a local tavern close to Turaida castle
Late afternoon arrival to Tallinn, the capital of Estonia
Overnight in Tallinn
Highlights
Visit to Gauja National Park including Turaida castle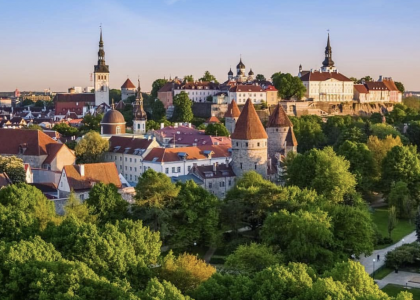 Tallinn - Kadriorg - Tallinn
Morning city tour by bus and a walking tour of medieval Tallinn (2 h.), to feel the aura of the 14th and 15th centuries that survived intact in a maze of medieval walls and towers, soaring church spires and winding streets. It includes the main historical and architectural monuments as Toompea Palace and Castle, Town Hall Square, the Russian Orthodox Alexander Nevsky Cathedral and a visit of Tallinn Dome Church.
After lunch, you will continue with the visit to the beautiful flower park of the Kadriorg Palace (5 km, 2 h.), which was founded by the Russian Tsar Peter. Visit the National Art Museum and stroll through the beautiful park.
Dinner at a medieval restaurant in the Old Town
Overnight in Tallinn.
Highlights
Tallinn city tour
Visit to Kadriorg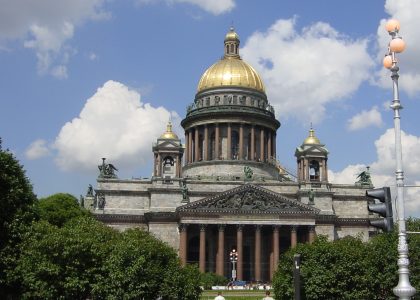 Tallinn - St. Petersburg
Today will mainly be dedicated to the journey from Tallinn to St. Petersburg with a lunch stop at Narva before crossing the Russian border and checking in at Azimut Hotel Saint-Petersburg.
St. Petersburg
On the first morning in this city, there will be a sightseeing tour to include the main attractions: the Peter-Paul Fortress, the Winter Palace, St. Isaac's Cathedral, the Church of the Bleeding Savior, the Nevsky Convent, and more.
Lunch at a local restaurant
Afternoon tour to the incredible Hermitage Art Museum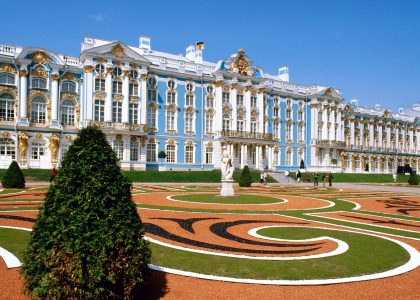 St. Petersburg
Excursion to Tsarskoye Selo which includes Catherine's Palace and the restored Amber Room. In the evening after a full day of cultural immersion, there is the possibility to visit the Nikolaevsky Palace to enjoy a traditional Russian folklore show and local champagne and food.
Free time for lunch
Optional canal tour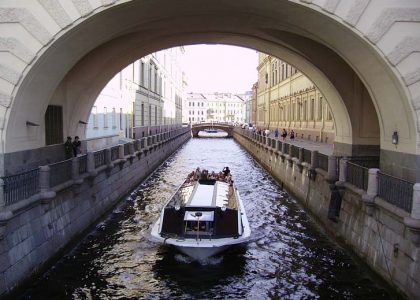 Departure from St. Petersburg
You will be transferred from the hotel to the airport for your flight.
What's included
Accommodation for 9 nights, includes breakfast
9 x Breakfast;
5 x Lunches (3 course meal including coffee/tea, water);
3 x Dinners (3 course meal including coffee/tea, water);
1 x English speaking local tour leader;
Long distance coach with air conditioning according to tour program;
Airport arrival/departure transfers;
Following entrances: Vilnius University, Trakai castle, Rundale Palace, Riga Dome, Turaida castle, Kadriorg palace, Hermitage Art Museum, Catherine's Palace,
Following excursions: Vilnius, Trakai, Hill of Crosses, Rundale, Riga, Turaida, Tallinn, St. Petersburg, Hermitage Art Museum, Catherine's Palace
24 Hour Emergency Service
Taxes & service fees
What's not included
Personal travel insurance
Flights to Vilnius / from St. Petersburg
Accommodation
| | | | |
| --- | --- | --- | --- |
| Vilnius | Artis Centrum Hotels | 4* central located | |
| Riga | Mercure Riga Centre | 4* central located | |
| Tallinn | Metropol SPA Hotel | 4* hotel with central location | |
| St. Petersburg | Hotel Sokos Vasilievsky | 4* | |
Booking conditions
For rates and availability please contact us by email hello@balticmotion.com or tel. +370 61000 809.