Explore Lithuania & Latvia
Program
Vilnius & Riga incentive trip
Duration
5 days / 4 nights
ITINERARY
Day 1: Arrival to Vilnius, Lithuania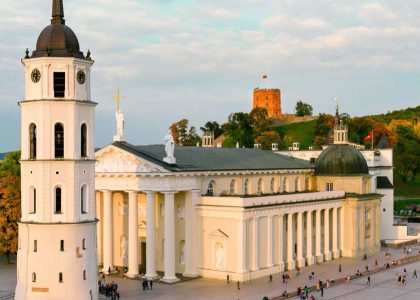 ARRIVAL TO VILNIUS, CAPITAL OF LITHUANIA
Meeting the group at the Vilnius International Airport (VNO)
Transfer to the hotel (20 minutes)
Check-in at the boutique hotel Pacai
Vilnius City Tour (1,5 – 2 hours)
Vilnius is a city with one of the oldest and most charming Old Towns in Europe. During the excursion, you will visit the most exciting architectural and historic monuments: Vilnius Cathedral, the 16th c. St. Anne's Church, Vilnius Town Hall, Vilnius University architectural ensemble with Church of Sts. John.
Dinner at restaurant "Bizarre Restaurant & Bar"
Overnight in Vilnius
Day 2: Vilnius - Trakai - Vilnius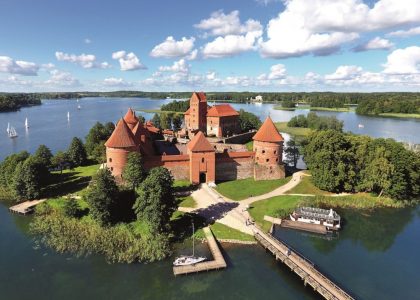 Tour to Trakai (28 km from Vilnius)
Trakai is a cozy and beautiful town just 25 km from Vilnius, a former capital of Lithuania. Trakai highlight is famous insular Castle on the lake Galvė dating back to XV century. It is a historical Museum of Trakai nowadays.
A brief visit to the castle 
Short bike tour along Trakai castle
Lunch at the typical restaurant "Kybynlar" with a view of the lake
Afternoon return back to Vilnius
Free time
Optional activities:

Flight with hot air balloon
Tank driving
Edge walking on Vilnius TV tower
Dinner at the restaurant "14 Horses"
https://www.facebook.com/14Horsesrestaurant/
Overnight in Vilnius
Day 3: Bus trip from Vilnius to Riga (300 km/4 hours)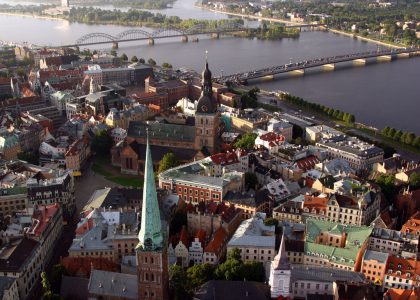 Check-out and departure by bus to Riga – the capital of Latvia
Visit to Rundale Palace
Lunch on the way
Afternoon arrival to Riga. Check-in.
Discover the Old Town of Riga with narrow cobbled stone streets, old buildings dating back to the 15th century, squares, churches and inner yards: Dome Square and Cathedral, Riga Castle, Town Hall and the House of Blackheads, Swedish Gates, Jacob's Barracks, Liivs' Square etc.
During the tour, we also suggest including a tasting of legendary Riga Black Balsam. The legend tells that pharmacist Abraham Kunce created the drink in the 18th century. It consists of 24 ingredients, is black in color, and alcohol content is 45%.
The restaurant is located within a short walking distance in Riga City Centre facing the beautiful Vermane's Park. You will enjoy a private dinner in the restaurant's banquet hall with a classical interior, a summer terrace facing the park, and excellent food and service.
Overnight in Riga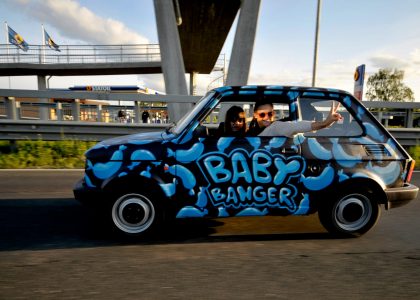 PanCars Riga Rally is an unforgettable fun activity! It is a great team-building event done as an orientation game by funny small Polish FIATs 126 painted by best Latvian Graffiti painters. Teams consist of 3 persons and rally takes about 2 h. It is a City Race with orienteering around the city with checkpoints where people have to do different and fun tasks. After the event, the winners get awarded by symbolic prizes.
Lunch at restaurant "Garage" – a stylish and democratic restaurant located in Berga Bazars yard in the city center of the city. It offers excellent cuisine and service. The menu includes various tapas on the table, a main course, and a delicious dessert served with bread, water, and coffee or tea. During the summer season, it has a nice summer terrace in the Berga Bazars yard with a fountain view.

A Visit & Food Tasting in Riga Central Food MarketRiga Central Market is one of the most unique markets in Europe. It is one of the biggest of its type located in the very heart of the city. The market is also interesting due to its buildings – a part of it is located under the roofs of 5 big sheds which used to be shelters for zeppelins of the German army during World War I. A tasting of local products & glass of local vodka shot. There will be such traditional products like black rye bread, hemp butter, fish, pickled vegetables, and more
Dinner at Restaurant "Kalku Varti" in the Old Town
The restaurant is located in a nice historical building in the very heart of the Old Town of Riga. It is one of the oldest restaurants in Riga which recently changed the location to this beautiful building with a new design and cosy atmosphere. You will enojy the best of European and contemporary Latvian cuisine.
Overnight in Riga
Day 5: Riga - departure home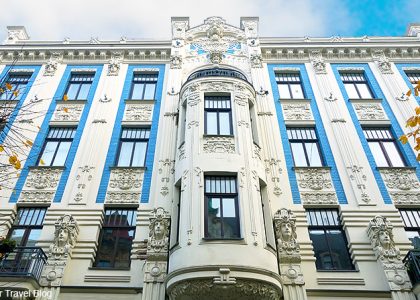 Riga Art Nouveau Tour & A visit to Riga Jugendstil Museum
The artistic style known as "Nouveau" first appeared at the turn of the century, and certainly was a fresh approach and stunning in its diversity – from ornate entrances, and building facades to minimalistic detail, Art Nouveau considered functionality as a key guiding light for the new look – interior design and selection of furnishings with many innovative touches.
Rīga was one of the cities at the forefront of the style's active use, and the examples of it are truly bold and vibrant. The echo was heard in other cities in Latvia, and even in country locales.
Departure to airport in Riga